The longer you spend in Las Vegas, the more you realize how vast the city really is. With streets as wide as an interstate freeway, it's no wonder how we can load in and load out so quickly. It's all thanks to our excellent drivers striving to make every drop-off and pick-up convenient to your needs. Simply put, it's our pleasure to organize all the cars to be picked up in an open and accessible hotspot and bring your's in particular closest to your front door. We organize this with no-hassle and no unnecessary waiting. Whether it's an expensive pièce de résistance or a standard four-door, we offer this option because we understand it to be stressful to be away from your vehicle. Why not let us do the heavy lifting? At least then, you don't have to drive too far to show off your awesome automobile to the neighbors.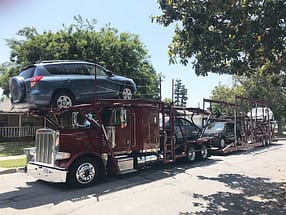 The benefits of door-to-door transportation in Las Vegas is all the ample space to park anywhere on the streets in order to load and unload your vehicles. We take extra precautions to ensure the safety of our drivers and their trucks. And if the case stands that the drop-off location is a little too close for comfort, our truckers know to park at the nearest spot across to unload safely. A small price to pay for a great deal. Not to mention, we also ship in vehicles from shipping yards each in one loading bay so as to save time and money. After all, if our drivers are working for Las Vegas Car Transport, they deserve to feel like they're living in luxury by saving themselves from a headache the other companies seem to always have. But not us. No, when we send your vehicles across the states, it's our pleasure to provide you that peace of mind.
Remember, when calling us to set up your shipping order, put in a special request for door-to-door auto shipping and our team will fulfill it with flying colors. Because at Las Vegas Car Transport, we may be the dealers of your deck, but we're only winning if you're winning with us.
Tel. (702) 920-3747